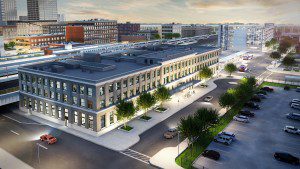 Description of Property
Printed in BusinessWest: No
List Price:
Address: 55 Frank B. Murray Street
City: Springfield
State: MA
Zip: 01103
Year Built: 2016
List Date: 09.08.2016
MLS #:

Square Feet: 105,000
Price Per Sq. Foot: $20.00
Acres:
Elevators:
Parking: 2.00/1,000 SF
Loading Docks:
Sprinklers:
Floors: 3

The SRA' s $88.5 million redevelopment of Springfield Union Station, combined with other nearby large-scale projects like the MGM Casino, will serve as the primary catalysts for the area' s downtown revitalization. The renovated station will create a multi-modal, mixed-use transportation hub for Amtrak, commuter rail, and regional and intercity bus service and will include 11,000+ SF of retail space on the concourse level, 62,000+ SF of office space on the upper floors of the historic station, 27-bay integrated open-air regional and intercity bus terminal and six level, 377-space parking garage at the corner of Main Street and Frank B. Murray Street.
Strategically located at the convergence of the interstate highway system and passenger and freight rail corridors, this unique and vibrant Class A office space will be available for tenant fit out Fall 2016 and offers unparalleled access by train, bus and car, 2 parking spaces per 1,000 SF. Modern, efficient floor plates, on-site amenities including cafes, restaurants and shops.  This is a prime location less than a ½ mile from world-renowned museums, entertainment venues, the restaurant district and numerous parks.
Available Immediately for tenant fit out +/- 64,000 SF
Mezz- 13,289 SF
2nd Floor – 5,000 to 25,583 SF
3rd Floor – 5,000 to 25,689 SF